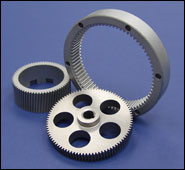 Our Company
Founded in 1987 as a privately held corporation and located in Saint Marys, Pennsylvania, which, is better known as the "powdered metal capital" of North America we operate from an 44,100 sq. ft. facility located on 18 acres. We provide our customers with powdered and/or sintered metallurgy solutions as an
alternative to conventional metal part forming processes to satisfy their requirements for production line components at a lower cost.
We dedicate our expertise in manufacturing custom engineered powdered metal components to serving the needs of the customer through application identification and design assistance to ensure a high quality product, at a lower cost, delivered when the customer wants it.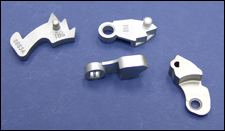 Products
Comtec Mfg., Inc. and the powder metallurgy, or sintered metallurgy process can offer a cost effective alternative to other standard metal component part processes such as fine blanking, investment casting, screw machine, cold forming, and CNC machining just to name a few. Our process offers "net shape" capability which minimizes costly secondary machining or undesired "process inherent" nuances.
We produce pressed metal parts with highly complex shapes such as gears & sprockets, ratchets & pawls, cams, electro-magnetic parts, rotors, shift collars, thrust plates, swash plates/blocks, drive rolls, wire guides, retainers, valve stops, clutch plates, shift forks, pulleys, shift levers, jaws, metal inserts, latches, latch plates, drive couplers, locking plates, drive nuts, timing plates, hubs, valve seats, guides, compression limiters, power distribution/electrical parts, eccentrics, lock dogs, links, knurled locks, pawl grippers, latch locks, hinges, solenoid cores, pole pieces, solenoid plungers, lamination stack-ups, bus bars, load bars, source bars, pivot terminals, pinions, sectors, rack gears, helical gears, bevel gears, idlers, carriers, and various sub-assemblies achieved through sinter-bonding of sintered metal components or the assembly of powdered metal parts to non-powdered metal parts.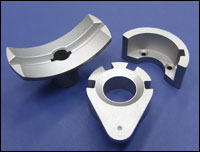 Engineering Materials
Comtec Mfg., Inc. produces structural powdered metal and/or sintered metal parts from several ferrous and nonferrous materials made from the atomization and sponge production processes. Our library of over 203 different raw material pre-mix compositions parallel the "Metal Powder Industry Federation (MPIF)" standards and consist of alloyed & admixed elements which are conducive to most any pressed metal and/or sintered metal component application.
Materials utilized include iron, iron copper, copper steel, carbon steel, iron nickel, nickel steel, prealloyed & low alloy steel, sinter hardened steel, diffusion alloyed steel, copper infiltrated iron or steel, soft magnetic or iron phosphorus, 300 & 400 series stainless steel, high conductivity copper, bronze, brass, and nickel silver.
Market Place
Comtec Mfg., Inc. manufactures and supplies customer specific highly engineered structural powder metal and/or sintered metal production components to a variety of industrial users throughout the world. We successfully serve the aircraft, hand tool, medical, hardware, appliance, railroad, electrical power distribution, fluid & gas control, welding equipment, and automotive industries.
Our global shipments of powdered metal and/or sintered metal parts include customers in Germany, Spain, Mexico, Ireland, Canada, China, Japan, Romania and the United States.